News
Congratulations to the 2012 DWA WDM award winners
Congratulations to Ekurhuleni Metropolitan Municipality, City of Tshwane and Drakenstein Municipality for winning the top 3 awards in the 2012 DWA WDM Sector Awards in the municipal category. Ekurhuleni and Tshwane are being supported by WRP and Drakenstein by subsidiary company 4Water.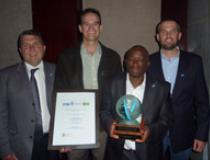 Download Press Release
Ronnie McKenzie welcomed as member of the IWA Fellows Program
Congratulations to Ronnie Mckenzie who was recently welcomed as a distinguished member of the IWA Fellows Program, in recognition of his extraordinary achievements in the profession and commitment to contribute to the ongoing work of the Association.
Pages