News
2013 DWA Sector Awards - Press Release
The Deputy Minister of Water and Environmental Affairs, Ms Rejoice Mabudafhasi, announced the 2013 winners of the Water Conservation and Water Demand Management Sector Awards at Gallagher Convention Centre, Midrand on 18 October 2013. Four winners of the awards are being supported by the Pretoria based WRP Consulting Engineers and its local subsidiary 4Water.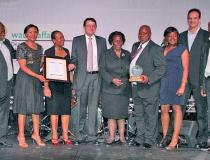 WRP_press_release_20131030.pdf
Managing Water Use in Scarce Environments
WRP provided several case studies for a publication by the 2030 Water Resources Group: 'Managing Water Use in Scarce Environments – A Catalogue of Case Studies'.
The publication is available for download at: http://www.waterscarcitysolutions.org/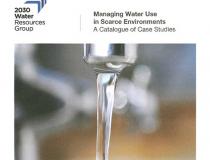 2013 WRC Award for Information Policy & Decision Making Transformation
WRP received the 2013 WRC Research Award for Information Policy and Decision Making Transformation for our report on the State of Non-revenue water. The South African Water Research Commission assists South African utilities in managing leakage, and has used leakage data to put together a comprehensive assessment of non-revenue water in the country. WRP compiled this report  and during the recent Water Research Commission Symposium at the CSIR Conference Centre in Pretoria on Wednesday 25 September 2013, received the award for Information Policy and Decision Making Transformation.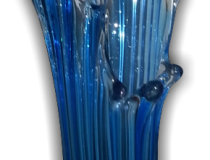 African Water Leakage Summit 2013 – Press Release
Following on from the successful series of Water Demand Management Workshops and Water Demand Management Master classes held bi-annually by WRP Pty Ltd since 1997; the 2013 Summit event was again a great success and for the third time had full IWA support and approval. The South African event was held over 2 days in both Johannesburg and Cape Town attracting more than 220 delegates between the two venues from 11 countries.

WRP_press_release_20130829.pdf
Pages